If you want to live in an area that still creates things, you need to buy the things your area creates, like a beautiful picture frame!
Memories should be shown off, not stuck on a hard drive or in a drawer. We are here to help you conserve those memories to enjoy every day, and for your great-great grandkids to enjoy in years to come.
Picture framing is an experience; touch and feel real mouldings and matboards and see them against your artwork in real life under natural light. View our different glazing options and create that one of a kind piece that you can't just buy off the shelf.
Our equipment is brand new and state of the art, which means your picture frame is going to be faultless and that we are set up to do everything on site in our studio - yes that's right, your custom picture frame, photo, canvas or fine art print will be handmade made right here in Orewa under our strict quality control and sharp eye for detail.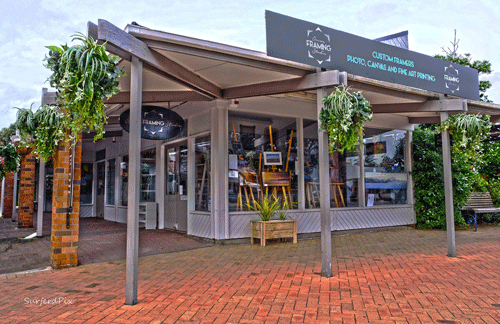 We invite you to venture into the heart of Orewa's town centre and visit us, don't fight the traffic, or the queues – take your time and receive the one on one service you deserve.
We are proud to be a family owned business living and working locally on the beautiful Hibiscus Coast.
We look forward to seeing you soon – Vanessa, Chris & Wendie.